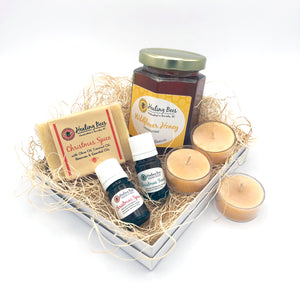 Includes:
1 - 150g jar of our unpasteurized Wildflower Honey
1 - Christmas Spice Bar Soap
1 - 5mL bottle Christmas Spice essential oil
1 - 5mL bottle Christmas Forest essential oil
3 - 100% Beeswax Tealight Candles

This unique Christmas Spice Bar Soap will be a much loved gift. Made with Olive oil, Coconut & Shea butter and essential oils that remind you of Christmas baking. This soap can be used on all skin types and is 100% natural. A beautiful hard bar of soap that makes lots of bubbles but mild enough for sensitive skin types.
Beeswax candles produce negative ions when burned, and those ions help to neutralize pollutants in the air. Beeswax candles have the brightest, purest light of any candles and are closest to natural sunlight. Our tealight candles have a clear cup to give off even more light. They burn for 3-4hrs.
This gift pack includes two 5mL bottles of Pure Essential oils. The Christmas Forest Essential oil is a unique combination of pine, fir and spruce essential oils that brings the fresh forest scent into your home. Our most popular essential oil blend for this time of year, the scent of Christmas baking in our Christmas Spice Essential oil blend.
Organic Fireweed Honey from our local hives here in Burnaby, BC, Canada.