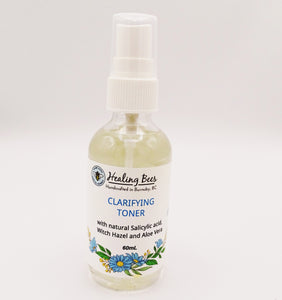 This toner not only is an excellent cleanser but it tightens your pores and promotes skin cell turnover.  The natural salicylic acid from willow bark extract exfoliates and alcohol free witch hazel tightens pores.  Excellent for acne prone skin.
It has antibacterial properties targeting the Staphylococcus aureus and Propionibacterium acnes which are implicated in cystic acne.  The witch hazel provides proanthocyanins which stabilize collagen and elastin and are excellent anti-oxidants, while the other components are anti-inflammatory.  This is a non-alcoholic and non-drying formula.
Directions of Use: 
1. Apply to a cotton pad and sweep over your face and neck.
2. For best results use morning and night, after cleansing and before your Healing Bees Hyaluronic Acid Serum and Rejuvenating Serum moisturizer.
Ingredients: Water, Witch Hazel (no alcohol), Willow Bark Extract (contains natural salicylic acid), Aloe Vera, Rose Floral Water, Vitamin B5, Lactobacillus, Coconut Fruit Extract, Lactobacillus Ferment as natural preservatives.