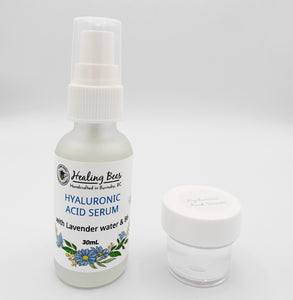 This light but highly moisturizing serum will hydrate your skin instantly and leave you refreshed with its light lavender scent.  Our Hyaluronic Serum, a 2% solution,  contains long, medium and short-chain hyaluronic molecules that intensely hydrates all layers of skin.  It plumps up the skin and smooths fine lines and wrinkles.

In addition to its anti-aging properties it has success in eczema treatment.  It moisturizes the skin without any irritation.  
Directions of Use: 
1. Apply to clean damp skin after using  Healing Bees Clarifying Toner morning & night.
2. Can be used under makeup.

Ingredients: Lavender Flower Water, Water, Glycerin, Vitamin B5, Hyaluronic Acid (long, medium and short-chain HA molecules), Lactobacillus, Coconut Fruit Extract, Lactobacillus Ferment as natural preservatives.