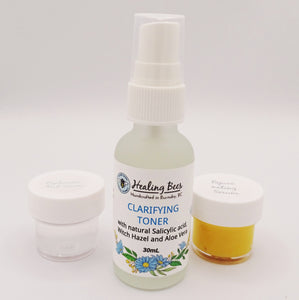 Try each of our 3 products in a sampler pack!
You get 30mL Toner and sampler size Hyaluronic Acid Serum and Rejuvenating Serum to last you about 30 days.  
Our Rejuvenating Serum is a 100% natural formula that is packed with antioxidants, hydrating agents, specialty oils, moisturizers and anti wrinkle components. 
The best Vitamin C for skin, (esterified vitamin C) that acts as a dark spot remover and increases collagen production makes this the best anti aging serum.  
The natural Vitamin E has anti wrinkle properties and reduces age spots and scaring.
Ferulic acid is an antioxidant that reduces UV damage.
Squalane is excellent moisturizers and has anti wrinkle properties
Silk amino acid is a power moisturizer and heals skin
The Baobab oil, Rosehip oil, Evening primrose oil, Sea Buckthorn oil and Pomegranate oil in this formula are packed with antioxidants, vitamins and anti aging effects.
This is goodness that only pure, natural ingredients can bring with visible effects.  The ingredients speak for themselves.
Clarifying toner not only is an excellent cleanser but it tightens your pores and promotes skin cell turnover.  The natural salicylic acid from willow bark extract exfoliates and alcohol free witch hazel tightens pores.  Excellent for acne prone skin.
It has antibacterial properties targeting the Staphylococcus aureus and Propionibacterium acnes which are implicated in cystic acne.  The witch hazel provides proanthocyanins which stabilize collagen and elastin and are excellent anti-oxidants, while the other components are anti-inflammatory.  This is a non-alcoholic and non-drying formula.
Hyaluronic acid is a light but highly moisturizing serum will hydrate your skin instantly and leave you refreshed with its light lavender scent.  Our Hyaluronic Serum contains long, medium and short-chain hyaluronic molecules that intensely hydrates all layers of skin.  It plumps up the skin and smooths fine lines and wrinkles.
In addition to its anti-aging properties it has success in eczema treatment.  It moisturizes the skin without any irritation.  
Directions of Use: 
1. Apply to clean skin after using Healing Bees Clarifying Toner and Hyaluronic Acid Serum.
2. For best results use morning & night as a light moisturizer.   
3. Can be used under makeup.
4. Formulated for daily use for all ages.
Rejuvenating Serum Ingredients: Water, Aloe Vera extract, Glycerin, Rose water, Emulsifying wax, Organic Honey, Baobab oil, Evening Primrose Oil, Esterified Vitamin C, Squalane, unrefined Rosehip oil, natural Vitamin E, Silk amino acids, Hydrolyzed rice protein, Vitamin B5, Pomegranate oil, Hyaluronic Acid, Ferulic Acid, Orange essential oil, and Coconut Fruit Extract, Lactobacillus Ferment, Lactobacillus, cold pressed Sea Buckthorn oil.
Toner Ingredients: Water, Witch Hazel (no alcohol), Willow Bark Extract (contains natural salicylic acid), Aloe Vera, Rose Floral Water, Vitamin B5, Lactobacillus, Coconut Fruit Extract, Lactobacillus Ferment as natural preservatives. 
Hyaluronic Acid Ingredients: Lavender Flower Water, Water, Glycerin, Vitamin B5, Hyaluronic Acid (long, medium and short-chain HA molecules), Lactobacillus, Coconut Fruit Extract, Lactobacillus Ferment as natural preservatives.