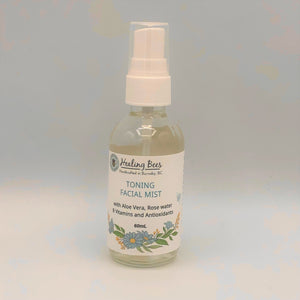 This facial mist not only refreshes and hydrates your skin but also tones. 
It has antibacterial properties targeting the Staphylococcus aureus and Propionibacterium acnes which are implicated in cystic acne.  The witch hazel provides proanthocyanins which stabilize collagen and elastin and are excellent anti-oxidants, while the other components are anti-inflammatory.  This is a non-alcoholic and non-drying formula.
Ingredients: Water, Witch Hazel (no alcohol), Aloe Vera, Glycerin, Rose Floral Water, Vitamin B5, Lactobacillus, Coconut Fruit Extract, Lactobacillus Ferment as natural preservatives.