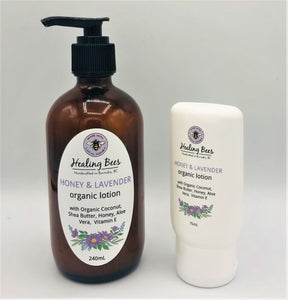 This wonderfully nourishing lotion is made with our own organic honey and organic oils.

Lavender Essential oil calms the skin and organic ingredients include Shea butter, Cocoa Butter & Coconut oil Honey and Vitamin E to nourish your skin naturally.  

Ingredients: Water, organic Aloe Vera extract powder, Organic Coconut Oil, Glycerin, Emulsifying wax, Organic Cocoa Butter, Organic Shea Butter, Honey, Grapeseed oil, Stearic acid, Tapioca Starch, Vitamin B6,  Sodium Benzoate (food preservative), Gluconolactone, Vitamin E,  Lavender Essential Oil.