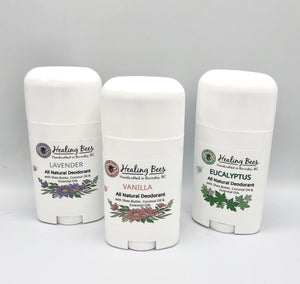 Made with Shea Butter, Coconut Oil and Essential Oils, these natural deodorants will keep you fresh scented without the use of harmful chemicals.​

Scents available: Vanilla, Lavender, Eucalyptus.
Ingredients: Corn Starch, Shea Butter, Grape Seed Oil, Coconut Oil, Organic Cocoa Butter Beeswax, Citric Acid,  Silver citrate, Essential Oils: Tea Tree,  Grapefruit, Lemon, Lavender, Vanilla, Eucalyptus.​