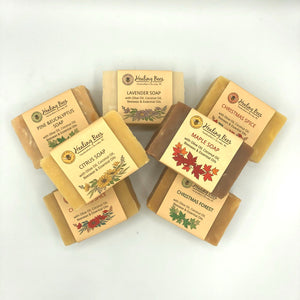 What you get:
5 bars of soap:
1 Maple
1 Lavender
1 Citrus
1 Christmas Spice
1 Pine & Eucalyptus
(if you would like a different arrangement please indicate in the comment section at checkout)
 Made with Olive oil & Coconut, Shea Butter Canola oil, Castor oil, Beeswax, and Essential oils. This soap can be used on all skin types and is 100% natural. This beautiful hard bar of soap makes lots of bubbles but mild enough for sensitive skin types.
Scents available: Citrus, Lavender, Pine & Eucalyptus, Spring Bouquet and Maple.
Ingredients: Olive oil,  Coconut oil, Canola oil, Castor oil, Shea Butter, Beeswax, Stearic acid and Essential oils (Lemon, Orange, Lavender, Eucalyptus, Pine, Fir, Cinnamon and Nutmeg)​