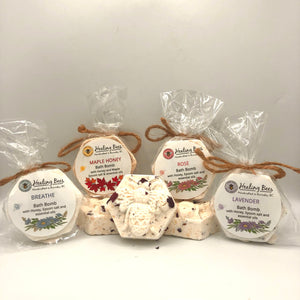 What you get:
5 of our bath bombs:
2 Lavender
1 Maple

1 Rose
1 Breathe
Our bath bombs are made with Essential oils, Honey, and Epsom salt. They will leave your skin soft and your mind at ease. Four scents to relax with: Rose, Citrus & Lavender.
Ingredients: Baking Soda (food grade), Citric Acid (food grade), Epsom Salt, Corn Starch, Honey, Witch hazel.  Lavender,  Orange/Lemon, Rose, Peppermint, Tea Tree, Eucalyptus, Pine essential oil and their dried flowers.