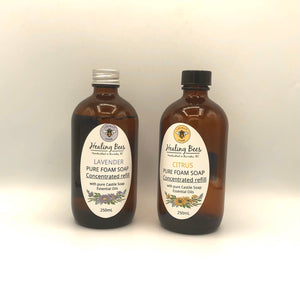 Each bottle of 250mL concentrate will make four bottles of our regular strength Foam Soap.  1L refill will make 16 regular strength Foam Soap bottles.
Scents available: Citrus, Lavender.
​​Ingredients: Water, Cocamidopropyl Betaine (coconut based cleanser), Saponified Olive Oil, Polysorbate 20 (food grade emulsifier), Sodium Benzoate (food perservative), Potassium Sorbate (food grade preservative)  and Essential oils (Lemon, Orange, Lavender).​