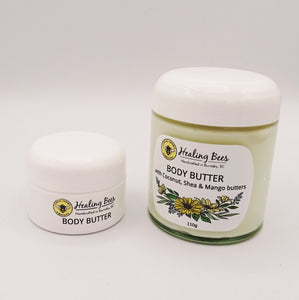 Body Butter made with all the goodness to nourish and replenish your skin.  Best for very dry skin like the elbows, heels and dry hands.  The nourishing oils combined with beeswax replenish your skin, heal your skin and lock in moisture.
I first made this cream for my husband who is an ICU Registered Nurse.  We tried many creams in the past but this was the best to treat his overwashed, dry hands.  Since then we had a lot of people thanking us for such a healing and replenishing hand cream.  Give your hands a treat, don't let it dry out and have micro-tears develop on your skin, those will allow microbes to get in!
Ingredients: Water,   Rose water, Aloe Vera Extract, Glycerin, Emulsifying Wax, Coconut Oil, Organic Cocoa Butter, Shea Butter, Mango Seed Butter, Stearic Acid,  Lanolin, Grape Seed Oil, Honey, Beeswax, Vitamin B6, Sodium Benzoate (a food-preservative), Gluconolactone, Vitamin E, Lemon Essential Oil, Orange Essential Oil.