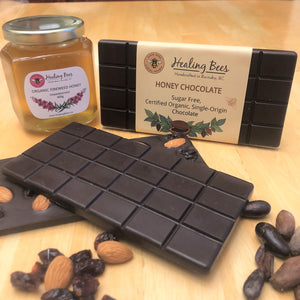 For cholate lovers we offer a 10 bar selection:
1 Bar - Honey Chocolate- 75% Dark
1 bar - Honey & Cranberry - 75% Dark
1 Bar - Honey & Almond - 75% Dark
75% Dark Chocolate made with Certified organic, single origin chocolate (no sugar added), our own Organic Fireweed Honey, apple juice infused Certified Organic Cranberries and Apricots and Roasted Certified Organic Almonds.

Bursting with flavour from meticulously roasted and fermented cacao beans (from Emkao Foods) and honey.  The cranberries and apricots add a delicious fruity note along with the crunch of almonds.  

This chocolate is a true labour of love.  We are making micro batches of only 20 bars at a time!  
Comes in 100g bars.
(if you would like alternate combination please make a note at checkout)