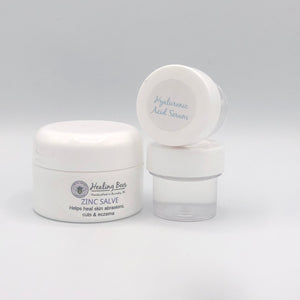 Eczema is a very difficult condition to treat. In our family it has been an issue for a number of us. After years of trial and error we are sharing what has worked for us. 

For daytime, our Hyaluronic acid is a great moisturizer.  It calms the skin, adds moisture to the deep layers and reduces itchiness which is half the battle.
For night time, we use our Zinc Salve to facilitate moist wound healing.  It is made of Lanolin, Vitamin E, Zinc and Evening Primrose oil.  With regular use, it will reduce the skin inflammation.
These creams are preservative free and fragrance free.
Sampler pack includes 7mL of Hyaluronic Acid and 15mL Zinc Salve
 How to use:   
1. Apply Hyaluronic acid to moist skin whenever needed. 
2. Follow with Zinc Salve healing and moisturizing cream.  Can be used day and night.
Hyaluronic Acid Ingredients: Lavender Flower Water, Water, Glycerin, Vitamin B5, Hyaluronic Acid (long, medium and short-chain HA molecules), Lactobacillus, Coconut Fruit Extract, Lactobacillus Ferment as natural preservatives.
Zinc Salve Ingredients: Lanolin, Zinc oxide 15%, Evening Primrose oil, natural Vitamin E, Lavender essential oil.