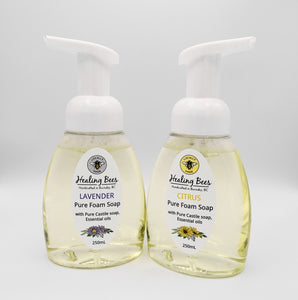 Made with Coconut oil, Castile soap & Essential oils. Great for the kitchen or bathroom, this soap lathers up easily and is gentle on the hands.

Scents available: Citrus & Lavender.
Ingredients: Water, Cocamidopropyl Betaine (coconut based cleanser), Saponified Olive Oil, Polysorbate 20 (food grade emulsifier), Sodium Benzoate (food perservative), Potassium Sorbate (food grade preservative)  and Essential oils (Lemon, Orange, Lavender).​