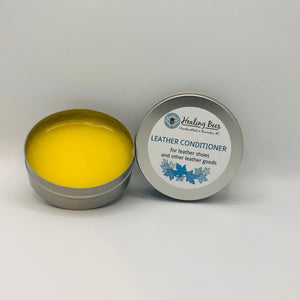 We have used this conditioner on our own leather goods and Blundstones for years now and it waterproofs them and polishes them.  
Directions: 
1. Clean your leather well and air dry.
2. Apply a small amount of Leather Conditioner on a clean cloth and spread evenly over the surface. One thin, even application is all that is necessary.
3. Wipe off any residue and set leather aside to allow it to absorb the conditioner
 Not suitable for suede and nubuck.
Ingredients:  Beeswax and jojoba oil