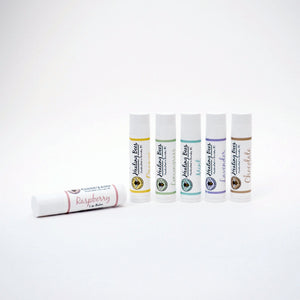 What you get:
1 Unscented
1 Orange
1 Mint
1 Raspberry
(if you would like a different arrangement please indicate in the comment section at checkout)
Our Lip Balm owes its super moisturizing quality to lanolin and coconut oil.  Beeswax is there to lock moisture in while lanolin provides healing and shine.  All the ingredients used in our lip balms are food grade.

Available in Raspberry, Orange, Mint, Lemongrass, Lavender, Vanilla Latte and Unscented
Ingredients: Base: Organic Cocoa Butter, Organic Coconut Oil, Lanolin, Beeswax | Scents: Lemongrass essential oil, Orange essential oil, Peppermint essential oil, Lavender essential oil, 100% natural Raspberry flavour (food grade).