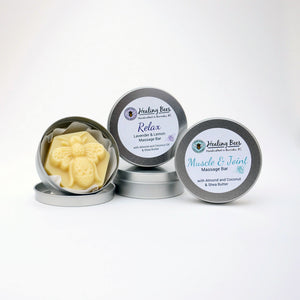 Made with Coconut,  Shea & Cocoa Butters, and Beeswax. As these natural nourishing oils melt onto your skin, the essential oils help elevate your mind.

Scents available: "Muscle & Joint" , "Energize", "Relax" and "Bee Mine"
Ingredients: Base: Coconut Oil, Organic Cocoa Butter, Organic Shea Butter, Organic Beeswax, Vitamin E.
Scents:  
"Muscle and Joint": Eucalyptus, Rosemary, Camphor, and Cajeput therapeutic essential oils                                                                                               "Bee Mine": Chocolate and Orange essential oil
"Relax": Lemon Essential oil, Lavender Essential oil
"Energize": Orange, Lemon and Peppermint essential oils

Comes in a 50g bee shaped bar.