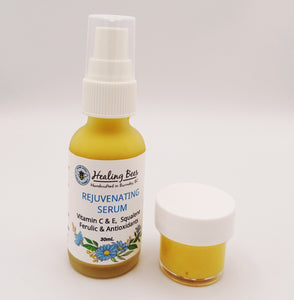 A 100% natural formula that is packed with antioxidants, hydrating agents, specialty oils, moisturizers and anti wrinkle components. 

The best Vitamin C for skin, (esterified vitamin C) that acts as a dark spot remover and increases collagen production makes this the best anti aging serum.  
The natural Vitamin E has anti wrinkle properties and reduces age spots and scaring.
Ferulic acid is an antioxidant that reduces UV damage.
Squalane is excellent moisturizers and has anti wrinkle properties
Silk amino acid is a power moisturizer and heals skin
The Baobab oil, Rosehip oil, Evening primrose oil, Sea Buckthorn oil and Pomegranate oil in this formula are packed with antioxidants, vitamins and anti aging effects.
This is goodness that only pure, natural ingredients can bring with visible effects.  The ingredients speak for themselves.
Directions of Use: 
1. Apply to clean skin after using Healing Bees Clarifying Toner and Hyaluronic Acid Serum.
2. For best results use morning & night as a light moisturizer.   
3. Can be used under makeup.
4. Formulated for daily use for all ages.
Ingredients: Water, organic Aloe Vera extract powder, Glycerin, Rose water, Emulsifying wax, Organic Honey, Baobab oil, Organic Evening Primrose Oil, Esterified Vitamin C, Squalane, unrefined Rosehip oil, natural Vitamin E, Silk amino acids, Hydrolyzed rice protein, Vitamin B5 (Panthenol), Vitamin B3 (Niacinamide), Pomegranate oil, Ferulic Acid, Orange essential oil, and Coconut Fruit Extract, Lactobacillus Ferment, Lactobacillus, cold pressed Sea Buckthorn oil.